To the geniuses behind happy hour: thank you from the bottom of our hearts. There is no better way to unwind and hang out with coworkers after a long day in the office. From discounted cocktails, drafts, and wine flights to appetizers and bar snacks, we've rounded up some of the best happy hour deals around San Francisco for a perfect couple of hours of casual socializing and light boozing.
Nook Cafe and Wine Bar – 1500 Hyde St (5-7pm daily)
For a classic San Francisco happy hour experience, head over to Russian Hill and sit curbside at this lovely cafe to watch cable cars cruise by, or sit inside and appreciate the old Victorian venue. Nook offers $1.50 PBR's, $4 cocktails, and $4.50 wine glasses during their daily happy hour.
Two Sisters Bar and Books – 579 Hayes St (Tue-Fri 4-6pm, Sat-Sun 1-4pm)
While it is usually relatively pricey, for a few magical hours from Tuesday to Sunday, this quirky bookshelf bar offers an ever changing selection of $4 local draft beers, $6 house wine, and $5 cocktails and bar snacks. So grab a drink and a book and enjoy the cozy atmosphere of SF's trendiest neighborhood.
El Rio – 1539 Mission St (Tue-Fri 1-8pm)
This neighborhood bar shakes up an impressive 16oz Bloody Mary for $5 and pours draft beers and wells for only $3. But the best thing about it? The ongoing party El Rio hosts in its own backyard! From free barbecues, to ping-pong socials and LGBT queer parties, El Rio's event calendar is never a disappointment. Check it out here.
The Boxing Room – 399 Grove St (Mon-Fri 3-6pm)
Looking for a little kick during happy hour? Stop by The Boxing Room for half-priced Cajun/Creole bar snacks like hushpuppies, Boudin balls and Cajun-boiled peanuts. They also offer half-priced cocktails you're guaranteed to be impressed by, like rum, old-fashioned cola and ice coffee, or rye, root beer, and absinthe.
Hawker Fare – 680 Valencia St (Mon-Thur 5:30-7pm, Sat-Sun 3-5pm)
As a quirky take on an old classic, this venue takes Tiki Bar to a whole new level. Stop by to watch a theme-inspired film and try some of their $9 tropical cocktails, $3 beer slushies, or a $24 scorpion bowl for you and three other buddies!
Amélie – 1754 Polk (5-7pm daily)
With a daily happy hour, a $10 wine flight and $5 flatbreads, Amélie is a perfect stop for anyone who loves good cheese and wine — and who doesn't? Start your early evening at Amélie for an intimate French wine bar experience, French bartenders included!
Urban Putt – 1096 S Van Ness (every Monday)
Every Monday at Urban Putt the golf course is closed for a Monday Funday Happy Hour. So bring your $4 shots and $10 snack pack with you and putt some sweet shots with your superior to show them who's really the boss.
Ho's Bootleg Tavern – 2360 Van Ness Ave (Mon-Fri 5-7pm)
This classic and casual bar is the perfect place to catch up with old buddies over great whiskey drinks and comfort food. Ho's happy hour features assorted $5 bar bites and $3 bottled beer. For an even better deal, stop by on Wednesday and try the finger-licking chicken wings for only $0.25!
El Toro Taqueria – 598 Valencia (Mon-Fri 3-5)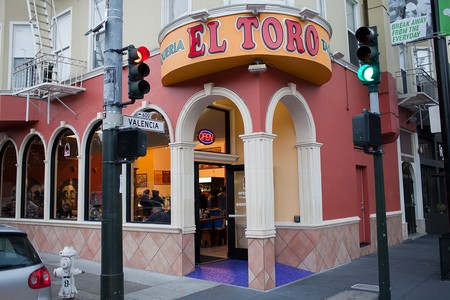 For a satisfying bite of Mexican food and beer stop by one of the Mission's favorite taquerias. For only $3 you can get a Pacifico, Modelo, or Corona, a taco with your choice of a generously portioned filling, and complimentary chips and salsa.
So go ahead and get rid of those weekday blues and enjoy a drink at any one of these favorite SF spots, sure to put the happy in your Happy Hour!